'Every Night' New Single Out Now!
My first new song in over 3 years is finally out!!
available on all streaming and download platforms.
Click here to listen to 'Every Night' now!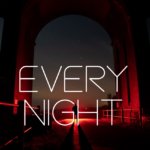 This was my first mainly self-produced song. Having more creative control over the sound allowed me to bring through influences from some of my favourite artists such as The Killers and Tom Odell.
The song is about a girl and being in love, but losing that love and then searching night after night.