Buy Tickets Now! for 'Fly Away EP' launch at Gullivers in Manchester 27/11
Tickets available now! http://flyawayeplaunch.eventbrite.com/
Buy tickets to my 'Fly Away EP' launch gig at Gullivers in Manchester's Northern Quarter on Sunday the 27th November!
I am performing with a full backing band for the first time and supported by fantastic singer-songwriters Liam McClair (and his band) and Charlotte Evans and her cellist!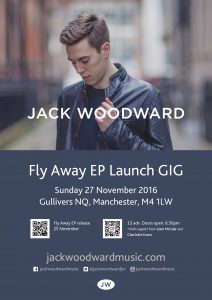 Young Singer-Songwriter Jack Woodward (23) performs songs from 'Fly Away' his debut EP, on the weekend of its release! Performing with a full backing band, Jack showcases the production and creative input of Sugar House, the creative force behind Viola Beach – Swings and Waterslides.
Pre-order Jack Woodward's EP 'Fly Away' now from Itunes (from 2/11)  https://itunes.apple.com/gb/album/id1162216250?app=itunes