Fly Away EP Released!
On Friday the 25th of November I finally released my debut EP 'Fly Away'! My passionate project that has been a year in the making and even longer in the writing. This is my first full example of my music and my sound that I want people to hear. I had input and creation at every stage of the process and was helped and supported by great friends and industry professionals. I really hope that you enjoy the 4 songs and find something in there that is amazing.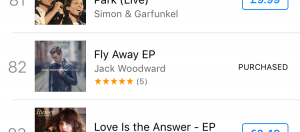 Fly Away made it to number 82 on the singer-songwriter itunes chart on its first day of release!
Available now on Itunes, Spotify, Amazon, Apple Music and more….
just click the links on the music section of my website