BBC Introducing Lancashire Interview + 'Higher' playlistings
I was very excited and felt truly honoured to return to BBC Radio Lancashire for a chat with Sean Mcginty and the rest of his BBC Introducing team last month!
We talked about my new backing band and the exciting live shows we have coming up, as well as my new EP and the stratergy behind trying to make it in music.
Click Here to Listen back to our chat from 1 hr 3 mins in: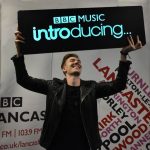 Support and interest continue to roll in for my single 'Higher' which has recently been featured on a number of spotify playlists including: Indie Alternative, Spingrey, American Top 40 Charts, iTunes US Top 100 Charts, nuwaveselects – Internacional, Talk about Pop Music, Fresh Finds: Undiscovered & Undervalued – Songpickr.