BBC Introducing Stage at Blackburn Festival – 12th May
Really excited to announce that I'll be playing an acoustic set on the BBC Introducing Stage at Blackburn's festival of Making on the 12th of May at 3 pm. I'll be joined by my bassist and drummer (on Cajon) for a few acoustic versions of my latest songs.
This support from BBC Radio Lancashire and BBC Introducing comes after playing my latest single 'Seven Seas' 2 weeks in a row on their weekly show! I can't wait to play another gig for them; lots more to look forward to next month too!
(Photo Below: Performing at Lytham Green for BBC Introducing last year)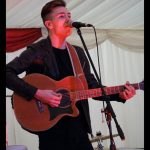 Also coming up soon, is a big gig for me in Manchester at The Kings Arms on Sunday 27th May. Tickets available now! Click Here
Other Dates
Liverpool – 18th May (Cavern Club 6 pm and Cavern Pub 10:30 pm)
Warrinton – 19th May (Warrington Bus Station Interchange 4 pm)