New single 'Rain' out this Friday (29th June)!!
Can't wait to share my new track 'Rain' this Friday; recorded in the studio last month. I think its got a cool 'Blossoms' and 'The Killers' sound / vibe to it. Building on from what worked with my last single 'Higher', with some creative new ideas too!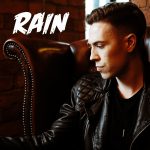 'Rain' will be available on all platforms from Friday (including Spotify, Itunes, Amazon, Youtube and Soundcloud) as well as a lyric video available to watch on youtube and facebook!!
Really excited to hear what you think of it …..