Amazing Radio play for 'Rain' + fresh reviews!!
The response to my new single 'Rain' has been incredible, with plays on 'Amazing Radio', 'Sunday Alternative' and 'Warrington Music' and fantastic reviews from 'Indie Buddie', 'Born Music Online' and 'Carpe Carmina'!!
Check out what they said bellow.
"It's a true power ballad" "epic culmination of all of the artist's work so far" – Born Music Online
"confidently fervent vocal grit and charisma" "commanding and catchy, charming and cool musical style" – Carpe Carmina
"a sparkling swirling concoction filled with dark stormy tones over sublime musicianship" – Indie Buddie
Long may these loving ears continue to listen to 'Rain'
I had a great time playing On the Hill festival in Frodsham [in the sunshine]!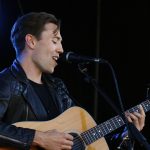 And I was lucky enough to catch my favourite band 'The Killers' play a very special intimate show at Glasgow's King Tuts (only 300 capacity), on the very same stage that I opened for Rae Morris 3 years ago!!